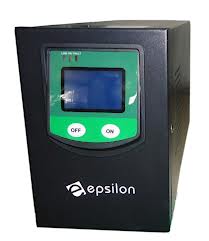 Epsilon 1.6KVA/24V Inverter
Overview of Epsilon Inverter 1.6KVA/24V:
The Epsilon 1.6KVA/24V inverter is a 1.6KVA/24V output capacity digital inverter, large enough to power a sizable set of household or office appliances. The 1.6KVA/24V Epsilon inverter is a 12 volts inverter requiring 4units of 1.6KVA/24V battery. That battery bank of 4 (No.) 12-Volt batteries will ideally be deep cycle, sealed, maintenance-free batteries. Battery capacity of 200Ah is recommended, though lower can be used.
Specification:
Pure Sine Wave Inverter

Smart Self Diagnostic Function

Single Display indicating all Functions

Power Source Indicator

Occupies Less Space - Sleek Design

2 Batteries of 200AH/12V

Pure Sine Wave Inverters

Cost Effective Power – Reduced Generator Usage

Extended Back Up and Battery Life

Maximum Protection to your equipments

User Friendly LCD display

Noiseless Operation

Pollution Free

Eco Friendly

2- 200AH battery of SUKAM or Luminous brand

Battery Rack for 2

Cable length of 10yards maximum (customer to pay for any additional requirement)

Mini changeover switch
No retailer found